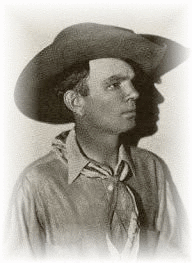 Join us on September 9 through 11 for our annual Laws Museum event commemorating the life of Curley Fletcher.

Curley Fletcher was a local Owens Valley writer and poet, whose literature had a profound impact, not only in his lifetime, but is remembered and recited around the world today, and certainly will be for many years in the future. Curley's poem, The Strawberry Roan, is a classic.

Curley arrived at the town of Laws as a baby in 1882, and after death was buried at Bishop Pioneer Cemetery in 1954. Fletcher's collection of poems, Songs of the Sage, was reprinted in 1986 by Peregrine Smith Books with a preface by Hal Cannon, Folklorist, The Western Folklife Center.

Featured Performers
Dave Stamey Dinner Concert Friday September 9! More performers to be announced soon!

Schedule of events:
Friday, September 9, 6:00PM Whiskey Creek Restaurant, Bishop, CA
DAVE STAMEY Dinner Concert
Tickets now available, the dinner is limited to 100 attendees.
Menu choice of:
Santa Maria Tri-tip with Peppercorn Gravy or
Rosemary Chicken
Pomodoro Pasta (Vegan/Vegetarian choice available by pre-order only)
Garlic Mashed Potatoes, Seasonal Fresh Vegetables, Sierra Salad, Ice Cream Dessert.
Lemonade, Iced Tea, and Coffee
Saturday, September 10
(TICKETS NOT YET AVAILABLE)
, Laws Railroad Museum & Historical Site
Curley Fletcher and The Good Old Days!
10:00AM-7:00PM Poetry and Music Rounds on the 1883 Carson & Colorado Depot loading dock. (Poetry and Music Rounds will move into the Train Barn if the weather is not perfect.) Enjoy Pioneer Arts & Crafts, Kids Activities, food and crafts booths, the famous Laws Museum Home Made Pie Auction and 11 acres of historic buildings and exhibits. Visit the Curley Fletcher exhibit in the Library building!
Sunday Morning, September 11, 9:00AM
(TICKETS NOT YET AVAILABLE)
Bishop Pioneer Cemetery
Curley Fletcher Graveside Farewell Toast