Laws Library and Art Center, May 25-28, 2023
The Bishop Calico Quilters selected Laws Railroad Museum and Historical Site as the venue for their annual Memorial weekend quilt show this year, and what a perfect opportunity it was to honor both the 100-year anniversary of Father Crowley's church, and the completion of our rehabilitation of the church's exterior.
Few items of material culture symbolize frontier/pioneer life more than quilts. Quilts made in that era were usually made for practical purposes, but that didn't stop their makers from artistic and often political expression. In an era when many women were not able to read and write or vote, beautiful geometric designs were often used to tell a story in symbol, or symbolically express political views that might differ from those of family and community.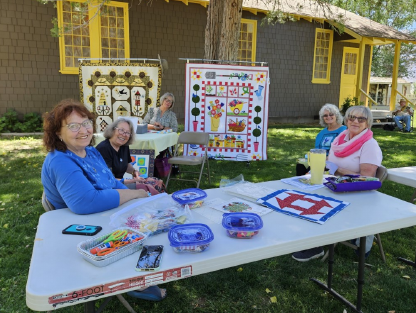 The Calico Quilters do an outstanding job of combining tradition and innovation. the exhibit of their work was truly a tribute to the library's purpose, and their efforts were much admired by visitors to Laws over the memorial weekend.
Visitors enjoyed learning about the history of quilts and designing a pattern of their ownwith help from the quilters.  We are delighted to report that this vibrant, community engaged group of women will be returning next year during Memorial weekend to exhibit their work, share this aspect of pioneer history, and promote their local scholarship program.
Thank you, quilters!