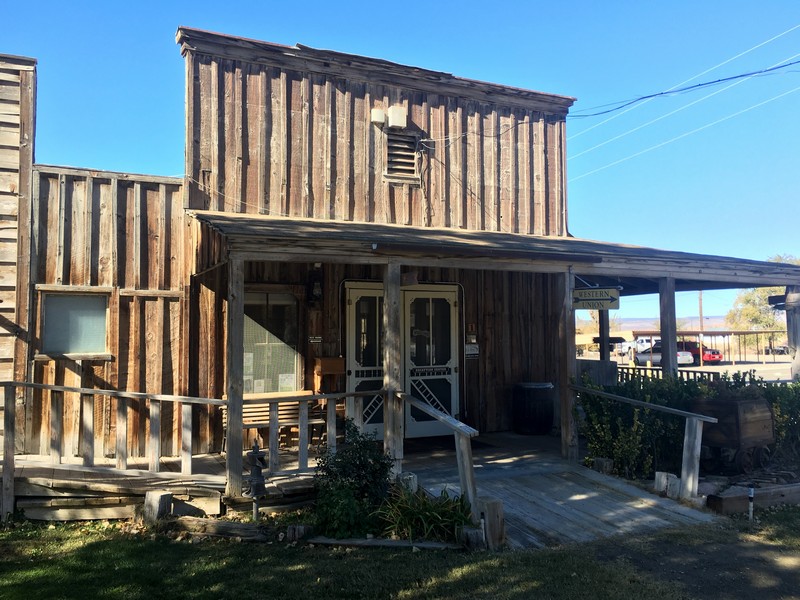 INSIDE


Reception Center Guest Registry. Books and Gifts for sale. Historical Photograph Display.
BUILDING'S ORIGIN


The Reception Center was originally built as a movie prop for the 1966 movie Nevada Smith starring Steve McQueen. The office portion in the back was added later.
HISTORY
On April 30th 1960 the Slim Princess train ended its run with a final arrival at Laws depot, and was quickly abandoned. By 1963 vandalism was taking its toll on Engine No.9 and the remaining railroad cars and structures. So in February 1964 some concerned old-timers formed the Bishop Museum and Historical Society.
In 1966 there was no dedicated administrative building, so the depot was used as an office. Bookkeepers would bring in boxes of the day's paperwork, then at sundown they'd box it back up and take it home.
In the summer of '65 Paramount Studios came to Laws, built the some props, and shot a few scenes for the movie Nevada Smith. One prop, left behind, was built for the fictitious town of Sweetwater and was simply a shell. Volunteer's went to work framing the interior and created a real building.
On April 1st 1966, exactly 83 years to the day from when the Carson & Colorado's Slim Princess first steamed into Laws, the Laws Railroad Museum and Historical Site was born. Volunteers now had an office and a period piece that would greet visitors, the Reception Center was born.